Sammie Sue Defenbaugh Hamon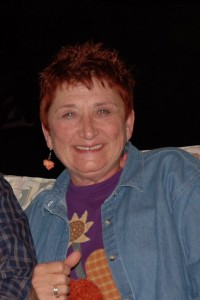 Sammie Sue Defenbaugh Hamon
July 26, 1947 – February 6, 2015
Sammie Sue Defenbaugh Hamon, or Susie, as she liked to be called, was born in Grafton, West Virginia, the daughter of Irma and Paul Defenbaugh. Susie grew up in Grafton and continued her education after public schools, studying nursing. After graduation, she worked as a nurse in Pittsburgh until she moved to Texas with her two children, where she worked with medical records and insurance and volunteered at local hospitals. She married Dexter Boone Hamon on July 14, 1984, and settled in Clear Lake to raise her family. 
Always ready with a hug and a smile, Susie never hesitated to make a new friend and will be remembered by many of those she befriended as she will by her family. Susie's children and grandchildren were the joy of her life. She was never without a picture.
Susie is preceded in death by her parents, Irma and Paul Defenbaugh. She is survived by her husband, Dexter Hamon, her son Michael Gene Patterson, his wife Heather and their children Sydney and C. J., her daughter Michelle Patterson Adkins, her husband Mike and their children Penelope and Jasper. 
Surviving family also includes her sister Paula Hannan, her husband Tucker and their children Kelley Hannan and husband Chuck Pue; Kami Abdalla and her sons Jordon and Kameron; Kasey Reeves, her husband Andy and their children Brant, Andrea, and Jayna; her sister  Becky Miller, her husband Dave and their children Aaron and Lindsey and Lindsey's son Brycen; her brother Jerry Defenbaugh, his wife Lea Ann and their daughters Brooklyn and Maggie; and her sister-in-law, Mary Sue Bloomfield and her family, Lauren and Andrew Burns, their son Jack, and Everett Bloomfield. 
Visitation will be at Crowder Funeral Home, 111 East Medical Center Boulevard, Webster, TX 77598 on February 21, 2015, between 2:00 p.m. and 4:00 p.m.
Arrangements for burial are being handled by Bartlett Funeral Home, 202 McGraw Avenue, Grafton, West Virginia, 26354
In lieu of flowers, the family knows that Susie would be honored by any gift given to programs which support our veterans or animal rescue or to a charity of your choice.