Sadie Rebecca Vest Thompson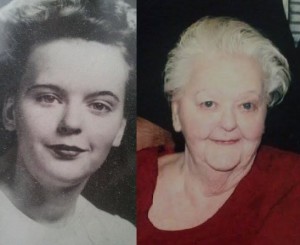 Sadie Rebecca Vest Thompson, 85, a resident of League City, TX, walked on from this life on Saturday, March 26, 2016 after many years of declining health.  Though she rests in the loving arms of Jesus, she will be greatly missed by her family and friends.  We remember Mama Sadie for her sense of humor, story telling and delicious down home cooking.  Sadie grew up in Petersburg, VA but went on to live in Baltimore, MD, Charleston, SC and Houston, TX.  She had careers working for a publishing company, a pharmaceutical company, as well as The Houston Post.  Sadie ended her working career in real estate and property management. 
During Sadie's long wonderful life, she gave plenty and loved many. That is evident in the number of people who called her mama and grandma.  Sadie is proceeded in death by her parents, Samuel H. Vest and Esther Jeffries Vest.  She is survived by her loving husband of 55 years Roy G. Thompson, their daughter Rebecca Tripovich and her husband Steven, her son Gerald Haddon and his wife Tess, her younger brother William Vest and his wife Maxine, grandson Christopher Haddon and his wife Regina, and granddaughter Heather Haddon.  She is also survived by her daughter in spirit, Brandi Bogar and her husband Dan, and their children Hunter and Nia. Plus numerous great-grandchildren, nieces and nephews. 
Visitation will be at 10:00 am Saturday, April 2, 2016 with memorial service immediately following at 11:00 am, both at Crowder Funeral Home, 1645 E. Main Street, League City, TX 77573. (281) 332-2727. Interment will be at a later date.  The family requests that in lieu of flowers, an honor gift be made to the charity/ministry of your choice or a donation given to the fundraiser at https://www.gofundme.com/35w2rtjw