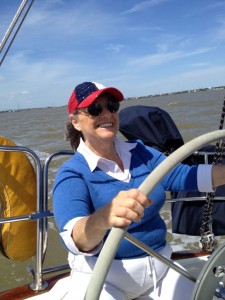 Ruth Susan Zittrer of Clear Lake, Texas passed away on Friday, July 1, 2016, after successfully battling heart disease for the past 15 years.  Ruthie, as she was known to her many friends, is survived by her husband of 50 years, Solomon "Sol" Zittrer, their three sons, Jay Michael Zittrer, Abraham Louis Zittrer and David Alan Zittrer, eight grandchildren, Kaylee Ann Zittrer (18), Nathan Asher Zittrer (15), Kinsey Zittrer (15), Noah Parish Zittrer (12), Koltin Zittrer (12), Bethany Grace Zittrer (10), Lucy Marie Zittrer (8) and Zachary Ryan Zittrer (5) , her brother, Frank Ehrenberg, and his wife Roberta and their son Stephen and her constant Golden Retriever companion, Beau.
Ruthie was raised in Lexington, Massachusetts but moved to New Jersey as a teenager.  She met Sol on a blind date on July 6, 1965, and the night that they met Sol told his mother that he had just met the woman he would marry.  On February 6, 1966, exactly 6 months later, they were married.  Exactly three years from their first date, their first son Jay was born on July 6, 1968.  In 1972, Sol took a position in Houston.  They moved to a new home in Brook Forest and David was born shortly thereafter in Texas.
Ruthie ran the Zittrer household, caring for Jay, Louie and David, and she was active in her children's activities and schools. Both Sol and Ruth were members of the Galveston Bay sailing community during all their time in Texas.  Ruthie and Sol were constitutionally incapable of living without a boat, and they were never without a motor or sailing yacht for more than a few weeks during their 50-year marriage.   Sailing was a family affair, and Ruthie, Sol and the boys spent many days and nights sailing and anchoring between gunk holes in and around Galveston Bay, Florida and the Bahamas.
Ruthie was an active, 30 year member of Lakewood Yacht Club, volunteering on numerous committees, including Keels and Wheels, Harvest Moon, and Ladies Association.  She made many close friends at LYC that are like family to Sol and Ruth.  Ruthie is a past-President of the Lakewood Ladies Association.  She was a fantastic chef, and no one ever declined an opportunity to enjoy Ruthie's cooking.  In typical Jewish mother fashion, there was never any shortage of gourmet quality meals at the Zittrer household, and no one ever left Ruthie's kitchen anything short of stuffed.  Ruthie taught all of her boys to cook almost as well as her.
  Ruthie's family will join with her friends in a celebration of her life at Lakewood Yacht Club at 2:00 p.m. on July 16, 2016.  In lieu of flowers, donations may be made to the Seahorse youth sailing program at Lakewood Yacht Club.