Ruth Rebecca Wells McIntyre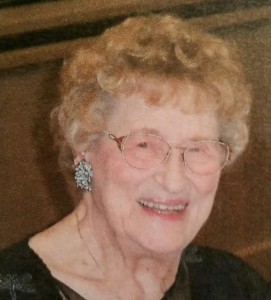 Our Mother, Ruth McIntyre joined her heavenly father on Friday, April 10, 2015.  She was born November 28, 1920 in Cleveland, TX to the late William Elijah Wells and Sarah Virginia Vann Wells.
Ruth is survived by her husband of 74 wonderful years, JB McIntyre; son Mark and his wife Kay; daughter Marsha Brookover and her husband Steve; 3 grandchildren and 3 great grandchildren.  She also loved Steve's family including 3 children and 7 grandchildren.  She is preceded in death by her oldest daughter, Pamela; two sisters and one brother.
Throughout the years Mother worked in sales and had a very successful Real Estate career.  She loved entertaining and loved to play dominoes and games with family and friends.   She was an active member of Park Place Baptist Church and a wonderful wife, mother, grandmother, and friend.
The entire family loved her, and in our grief from her loss we understand that she is rejoicing with her family and many friends in Heaven tonight.  We will miss her, but she is still with us in our hearts and we know we will be with her in Heaven one day. We Love you Momma!
The funeral service will be held in the Chapel of Crowder Funeral Home located at 111 Medical Center Blvd. in Webster, TX at 1:00pm on April 14, 2015. Following the service, we will lay our Mother to Rest, at Forest Park East Cemetery.