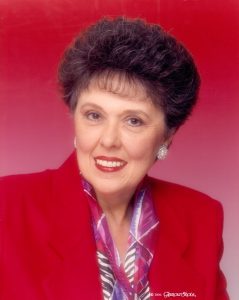 Ruth Covin Hall, born March 24, 1937, departed this earthly life on June 17, 2017 at Clear Lake City Regional Hospital to be with our Lord. The children in the Lord's house have gained a teacher, best friend and loving spirit for all eternity.
Ruth was born to Fred and Johnnie Covin in Gilmer, Texas. She was the oldest of two daughters. Her younger sister, Freda, preceded her in death in 1979. Northeast Texas and the Piney Woods were the home to the Covin family, who embraced the ideals of love of God, family and friends. The Covin family possessed a love for education and produced many teachers and educators. Ruth additionally possessed a talent for music and played the piano, ukelele and sang beautifully. She idealized and adored her father, who served as a school administrator and community leader in North East Texas. From an early age, it was clear that Ruth possessed an uplifting and magnanimous personality that was partnered with a quick intellect and generous spirit. She graduated High School as Salutatorian in 1955 and attended college at the University of North Texas, graduating there with a degree in Elementary Education, a minor in music and other academic honors in 1958. She belonged to and was active in the Alpha Delta Pi Sorority. Ruth also completed graduate work at the University of Houston and the University of St. Thomas in Houston.
After college, Ruth taught school in Dallas (L.O. Donald Elementary, 3rd grade and music) for 3 years and then in Abilene, Texas (Reagan Elementary, 2nd grade). It was in Abilene that she met the "love of her life", Howard Hall. Theirs was a movie worthy love story with a classic "love at first sight" scene that resulted in a marriage filled with love and laughter for over 50 years. Ruth and Howard had two children, Rebecca and Howard Fred. The family settled in Clear Lake City. Ruth began an exemplary career teaching for the Clear Creek Independent School District at Whitcomb Elementary becoming an exceptional teacher. Her genuine love of her students and all children have resulted in many long-standing relationships and lives that have been forever changed by Ruth's loving spirit filled with care and nurturing. She was presented the PTA Life Membership Award in 1990 for distinguished service to children and youth and she retired in 1995 after 28 years of service to CCISD. After retirement, she became a member of the Clear Creek Retired Teacher's Association.
Ruth was a loving mother to her two children and has resided in Clear Lake City for 50 years. She and her family have been members of the Clear Lake United Methodist Church. Over the years, Ruth's influence has been felt by countless, neighbors, friends and even strangers. She has always emanated a beauty and welcoming comfort that drew all to her and has been active in neighborhood and community events. Ruth is survived by her husband Howard H Hall; her daughter Rebecca Parker of Sanger, Texas and son, Howard F Hall of Tomball, Texas, her grand-daughters, Ashley Hanley with her husband Jeff Hanley and Sera Hall, son-in-law, David Parker, and daughter-in-law, Dorothy Hall. Ruth's grandchildren have been the center of her world. Ashley and Sera have been blessed with a grandmother filled with devotion and fun-filled joy. Ruth is also survived by her nephew, Kent Martin, wife Uli and sons, Daniel and JK from Longview. Longtime neighbors turned family, Bob and Marilyn Rote, Kelly and Mark Halverson with Karley, Kari and Doug with Elinor also survive their cherished "Ruthie".
The Memorial service will take place at 11am on Friday June 23rd at Clear Lake United Methodist Church – 16335 El Camino Real, Houston, TX 77062.  In lieu of flowers, please contribute to the American Cancer Society.
Raven haired Ruth from a small town
An easy lipstick smile underneath sparkling dark eyes
A magical aura directed by her attention flutters about
We wait for her gaze and sure magical touch to right the world
She is the muse of small children opening the curtains of make-believe and unabashed play
The core of a family heart with arms open
Strength unknown by many and fierce in defense of others
Guided by what was morally bestowed and modeled by parents of high esteem
A happy soul unmarred by the world
Light, air and colors made brighter under her influence
Raven haired Ruth from a small town
-Rebecca Parker (May 2017)