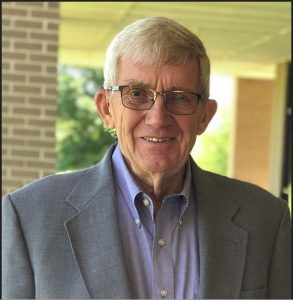 Russell William Leidy, (82), of League City, Texas passed away after a long battle with Lewy Body on May 24, 2023, surrounded by family.
Russell, fondly known as Russ, was born to Jennie and Leonard Leidy, on February 4, 1941, in Inman, Nebraska. Russ was introduced to the great outdoors by his father and mother where he grew his love of hunting, horseback riding, fishing, camping, boating and snow skiing. Russell married his beautiful bride of almost 60 years on August 31, 1963, in Denver, Colorado. He earned a Bachelor of Science in Mechanical Engineering from Colorado State University in 1964 and began his career at a Philips facility outside of Idaho Falls, Idaho. Three years later, Russ started his 38 year career with Dow Chemical in Rocky Flats, Colorado. From there he was transferred to Rotterdam, The Netherlands to help lead the Dow Chemical site expansions in Europe. After five years working and exploring Europe with his young family via a Volkswagen camper van, he moved his family to Freeport, Texas to continue his career with Dow. He then worked with British Petroleum in Clear Lake City and Texas City, Texas, providing leadership in their procurement group. He then retired moved to the state he will always call home, Colorado, and built a dream house for him and Lu. They lived in Durango, Colorado for 12 years where they spent time riding ATVs, camping, hiking, jeeping, and sharing their love of God's country with anyone and everyone who came to visit.
Russ was a hard worker and an amazing volunteer. He was an Eagle Scout who spent many years volunteering as a Scout Leader teaching his troop and then his grandchildren about every skill you can imagine. He was an active church member and was always lending a helping hand to those in need. He also liked to have fun and play hard. You could find him on the ski slopes and tugging on the fishing line still at the age of 70. He had a love of photography and capturing God's beautiful creations both in nature and the ones he loved. His greatest joys were spending time with his wife, children and most importantly his grandchildren.
Russell is survived by his wife, Luanna Leidy and children, Michael Leidy, Trish Leidy, and Audra Farace; brother, Kent Leidy; grandchildren, Sidney Leidy, Madison Leidy, CJ Hudson, Hailey Hudson, Parker Farace, and Presley Farace as well as numerous family members and friends.
A Celebration of Life will be held on Thursday, June 1, 2023, at 1:00 pm at Webster Presbyterian Church, 201 W. NASA Parkway, Webster, Texas, 77598.
On behalf of Russell's memory if you wish, you may donate to: UTHealth Houston, The BBSB, c/o April Vera, 1941 East Road, Houston, Texas 77054
Please make checks payable to UTHealth Houston and include on memo line "Dr. Schulz's research-Russell Leidy"