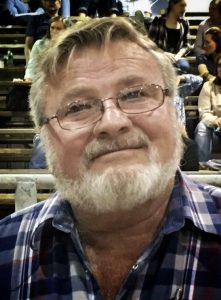 Rudy Wistinghausen, 71, a longtime resident of Santa Fe, Texas passed away peacefully in his sleep on Wednesday, July 31, 2019.  He was born September 19, 1947 in Frankfurt, Germany and was raised in Texas City, Texas.
He graduated Texas City High School, was a veteran of the United States Army serving in the Vietnam War; was a member of the High Roller's motorcycle club,  Rudy worked as an iron worker out of Iron Worker' s Local 135 for many years and he operated Wistinghausen Enterprises.
Rudy truly lived life to the fullest.  He had an innate love of people and always expected the best of them.  Rudy enjoyed talking with everyone and telling stories.  He was a devoted father and grandfather, who loved motorcycles, hunting, car racing, and spoiling his grandkids.
Rudy is survived by his son R.K. Wistinghausen (Kaitlin Duhon),  three grandchildren: Carter Wistinghausen, Madyn Wistinghausen and Matti Duhon nephew David Williams (Sue) and his father's children: Neal Padgett (Kathy) and James Wistinghausen (Lois); four sisters: Vickie Beall, Judy Disiere, Shirley Disiere and Peggy Laws, numerous nieces and nephews.
He was preceded in death by his mother Jean Williams – Broker, stepfather Joe Broker, his father Rudolph K. Wistinghouse, II and his uncle Charles Williams.
A visitation will be on Sunday, August 11, 2019 from 2:00pm – 4:00pm with the funeral service at 4:00pm at the James Crowder Funeral Home in La Marque with Chaplain Kelley Vaughan officiating.  Burial will be at 3:00pm on Tuesday, August 13, 2019 at the Williams Family Cemetery in Evant, Texas.