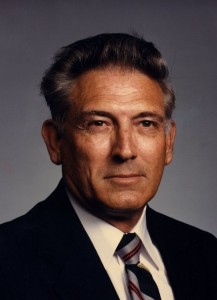 Rudolph Alfonso Mansi, 84, resident of Santa Fe, Texas passed from this life on Saturday, July 23, 2016 surrounded by his loving family. He was born January 15, 1932 to proud parents Alfonso and Dolores Mansi in Galveston, Texas.
Rudolph attended Santa Fe High School, Texas A & M and UCLA – California.  He retired after 27 years from the Galveston Central Appraisal District where he was a certified tax administrator appraiser. His dream job prior to that from 1958 – 1966 was with the city of Los Angeles, California where the introduction to computers allowed him to operate IBM computers.
He was a remarkable man who lived his life to the fullest.  He was full of energy and intelligence and extremely witty. He will be deeply missed by his large extended family, numerous cousins, his best friend Frank Cortese, and all his friends at The Waffle House and I Hop as well as his neighbors and local families of Packards, Holts, and Pantalions, where he always felt part of their welcoming and caring circle.
Rudolph was a member of the Society of St. Pius X and was a devout Catholic all of his life.
He was preceded in death by his parents, Alfonso and Dolores Paolinelli Mansi, his sisters, Francis Elaine Mansi, and Marie Mansi Packard and his brother, Leon Mansi.
He is survived by his nieces and nephews, Lorraine Packard Luna and husband John, B.J.Packard, Jr. and wife Deborah, Patrick Packard and fiancée Beth, Patricia Packard Blount and husband Thomas,  Mildred Packard Russell Muckleroy and husband Charlie, Tina Preite,  Cynthia Gardner and husband Kerry (deceased), John Barcas and wife Edita, Leon Mansi, Jr. and wife Marilyn, Lonnie Mansi and wife Denise, Dianna Mansi Nunez and husband Allen, as well as his sister-in-law, Janet Mansi.
In his honor a visitation will be held Tuesday, July 26, 2016 from 6 – 8 pm with a rosary at 7 pm in the Crowder Funeral Home Chapel, Dickinson, Texas. A funeral mass will be held on Wednesday, July 27, 2016 at 10:00 am at the Queen of Angels Roman Catholic Church in Dickinson, Texas followed by interment at Mt. Olivet Catholic Cemetery.
In lieu of flowers, contributions in Rudolph's honor can be made to: St. Mary's College and Academy, 200 E. Mission Street, St. Marys, Kansas 66536.