Ruby D. Barlow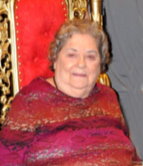 , 90, of Corsicana, Texas passed away Sunday, September 27, 2015 in Webster, Texas. She was born November 18, 1924 in Streetman, Texas to John and Ophelia Massey. Ruby lived most of her life in Corsicana. She was a member of Northside Baptist Church in Corsicana, she loved to sew, was an artist, and most of all loved to tell jokes and make people laugh.
Ruby was preceded in death by her parents; her husband Charlie Barlow, grandchildren; Aimee Fife, Loree Fife and Beau Fife.
She is survived by her two daughters Brenda Jenkins and Wanda Fife and husband Dale; son Bobby Barlow and wife Celeste; eight grandchildren; Karla DeRanieri (Gino), Frank Earley (Dawn), Damon Fife (Monica), Shelly Smith (Tim), Bubba Fife (Alicia), Jason Barlow (Diane), Becky Watson(Joey) and Kayla Raborn and eleven great grandchildren.
A visitation will be held on Wednesday, September 30, 2015 from 6:00pm – 9:00pm at the James Crowder Funeral Home in La Marque.
Graveside service will be 2:00pm on Thursday, October 1, 2015 at the Oakwood Cemetery in Corsicana, Texas with Pastor Rick Lamb officiating.