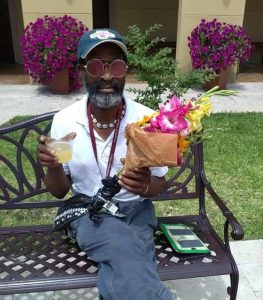 Rossano "Ross" Dickie, 51 formerly of Galveston, Texas, passed away peacefully on Monday, April 18, 2022, in Virginia Beach, Virginia.
Ross was born on July 5, 1970, in Alvin, Texas though was raised in La Marque, Texas.  He graduated from La Marque High School in 1988.  Ross made his mark during high school as the school's mascot, a cheerleader, as well as being extremely talented member of the band.  Ross went on to attend the University of Texas, where he was a cheerleader as well.  After college, he went on to teach as the varsity cheerleading coach at the Mater Dei High School in California.  While there he led his students to five consecutive NCA High School National Championships.
Ross loved to travel, read, music, and cook.  Though, mostly he loved his precious puppy, Lola.  He had an incredible sense of humor and very quick wit!  Ross was adored by so many friends from all over the world, as he made friends wherever he went.  He will be greatly missed by all.
He is preceded in death by his mother Bonnie Giles, stepfather Lonnie Dickie, and grandmother Ruby Lee Giles.
Funeral service to celebrate his life will be held at Crowder Funeral Home in Pearland on Friday, May 13, 2022 at 7 p.m., with a visitation from 5:00-7:00 pm. There will be a graveside service Saturday, May 14, 2022. at 11:00 am, at the Peaceful Rest Cemetery located at 600 Block W. Pleasant Street, Brazoria, Texas 77422.