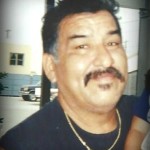 Rosendo "Pancho" Dominguez, Jr. 65 of Galveston passed away at his residence. He was born September 20, 1948 in Rockport, Texas to Rosendo and Manuela Dominguez. Everyone knew him as "Tio Pancho" because he loved to be surrounded by kids.
Pancho loved to play pool, cook for his family and babysit for his family and friends. He watched John Wayne movies and listened to Johnny Cash and Mexican music. Pancho was in the flooring business and a jack of all trades.
He always said what he meant and meant what he said.
He was preceded in death by his parents, daughter Shanna Perez and brother Lawrence Dominguez.
He is survived by the love of his life Lucille "Kim" Dominguez of 21 years; his sons Michael Dominguez, David Dominguez, Rosendo Dominguez III and devoted daughter-in-law Erica, Robert Ruiz, Lorenzo Dominguez; his daughters Consuelo Dominguez and Johnnie Dominguez, sisters MaryAnn Dominguez, Josephine Flores, Gloria Allen (Jacqueline) and Mary Lou Moya; twenty-eight grandchildren, three great grandchildren and numerous nieces and nephews.
A visitation will be on Thursday, August 28, 2014 from 5:00pm – 7:00pm at the Crowder Funeral Home in La Marque with a funeral service to follow at 7:00pm. Officiating will be Minister Lashund Lambert.
The family will be having a reception at 4:00pm Friday, August 29, 2014 at 2901 Cedar Drive, La Marque, Texas.