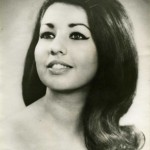 Rosemary "Rosie" Bak, 66, of Santa Fe, TX, passed away July 12, 2014. Rosie was born October 27, 1947 to Arnulfo and Beatrice Yzquierdo in Galveston, Texas. She graduated from Dominican High School in 1966. Rosie was a recognized volunteer tutor for Literacy Advance of Houston and a supporter of Special Pals Animal Shelter. She was preceded in death by her mother and father, her husband, Edward F. Bak and her beloved pet, Lady.
She is survived by her brothers, Arnold Yzquierdo and his wife, Arlene, and Benjamin Yzquierdo; sisters, Janie Yzquierdo Ryan and her husband, Richard; Linda Yzquierdo Placencia and her husband, Juan, and Cathy Yzquierdo Suggs and her husband, Allen; nieces, Cozette Holland, Stephanie Vitkus, Saradina Wilkes, Shannon Marie Kyle and Christy Suggs Dreschsel; Nephew, Sean Allen Suggs; numerous great nieces and nephews; cousin, Norma Y. Flores; and her very special aunts, Helen Yzquierdo and her children, Rose Helen, Raul, Bobby, Terry and Yolanda, and Janie Yzquierdo and her children, Gerard, Zina and Edgar.
A celebration of Rosie's life will be held Tuesday, July 15, 2014, with Raul Yzquierdo officiating, at 7:00 pm at Crowder Funeral Home Chapel, Dickinson, TX.