Ronald (Ronnie) Lee Mayville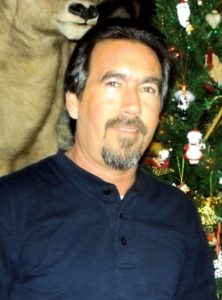 Ronald (Ronnie) Lee Mayville, 63 of Rye, Texas passed away peacefully at his home on Tuesday, September 6, 2022.  He was born December 10, 1958 on Galveston Island to Francis and Margaret Mayville.
Prior to suffering a stroke in 2015, he lived in Tyler, Texas where he worked in various auto parts stores and was a parts Manager for Saturn of Tyler.
Ronnie is preceded in death by his parents, brothers; Francis "Butch" Mayville and David Mayville.  He is survived by his wife of 33 years, Marilyn, his brother, Donald Mayville and wife Reagan and sister Carolyn Luchsinger, several nieces and nephews and his special pets Charlie, Charlotte and Saturn.
A Memorial Visitation will be held on Friday, September 16, 2022 from 4:00pm – 6:00pm at Crowder Funeral Home, La Marque with the Memorial service at 6:00pm with Pastor Matthew Brackman officiating.