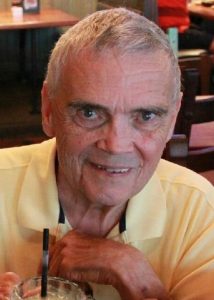 Ronald Gustav Heitman, 76, of Pearland, TX, left this earth and was called home on December 29, 2016 surrounded by his loving family.
Ron grew up in a small town in southern Illinois where he earned his degree in Electrical Engineering. He was a team member on one of the greatest exploration endeavors of humankind: Gemini, Apollo, Skylab, Shuttle, and Space Station programs. While working for McDonnell Douglas during the 60's, he had the opportunity to work side-by-side training astronauts on flight simulators. It was at Cape Canaveral, Florida that Ron met the love of his life, Wendy Smith and they later married in 1964. They then moved to Houston to raise their three children. After enjoying fulfilling years of being a member of the JSC NASA space program community, he retired in 2007.
Ronnie was born February 16,1940 in Fairfield,Illinois to Gustav and Maria (Nitschke) Heitman of Germany.  He was preceded in death by wife Wendy, and his parents. Ron is survived by his son Christopher Heitman and wife Stephanie of Richmond, Texas, son Jonny Heitman of Houston, Texas, daughter Jennifer Pliske of Goodyear, Arizona, and by his grandchildren: Emily, Josh, and Carson Pliske,  Niklas, Andrew, and Kathryn Heitman, Gwendolyn Heitman, great-granddaughter Olivia Rector; Kevin loving niece Kathy and her husband Eddie Paddock; sister June Griffith and her children Mike, Lisa and Kevin.
The family will receive friends starting at 5pm on Tuesday, January 3rd, 2016 at the Crowder Funeral Home, 2422 Broadway Pearland, TX 77581.  A service will begin at 10am, Wednesday, January 4th at Crowder Funeral Home with burial to follow at South Park Cemetery.