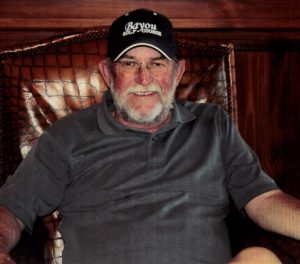 Roger Ray Allen, 80 of Bayou Vista entered into God's Kingdom on Saturday, March 18, 2023 in Texas City.  He was born August 15, 1942 in Lufkin, Texas to Forest Delma Rogers and Malinda Elaine Allen.
Roger was a resident of Bayou Vista for 40 years; he was veteran of the US Army and worked as a Pipefitter/Welder for Local 211 for 48 years. He loved his dogs, playing golf, fishing, and a good competitive game of pool with friends.  He enjoyed cooking and eating delicious (and spicy) food, especially Gulf Coast seafood. He had a kind and loving heart, was comfortable and embraced in any group – whether friends or strangers – and loved to laugh.   He lived the golden rule do to others what would desire to be done to us.  Roger was a truly great man whose impact will be forever felt by his family that loves him dearly and we treasure sweet memories until reunited.
Roger was a loving and devoted husband, it was a great adventure every day and I will hold onto all the great memories.
He is preceded in death by his parents.  Roger is survived by his wife of 40 years, Rene Bessire, sister Glenda Brobst, nieces Kendall Schiff and Denise Bessire, nephews Cameron Brobst and Denny Bessire and sister-in-law Nora Bessire.
"For God so loved the world that He gave His one and only Son, that whosoever believes in him shall not perish but have eternal life."   Roger Ray Allen did not perish on March 18, 2023.  He had a personal relationship with Jesus and is now eternally in his presence.  We are never promised our next breath to say "yes" to Jesus.
No services will be held at Roger's request.