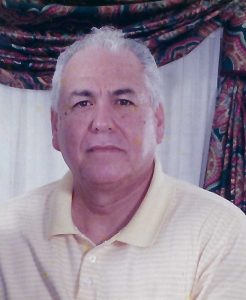 Rodolfo Vasquez, Sr.,75, formerly of Corpus Christi, TX passed away with his wife and family by his side on May 5, 2022, at his home in Pearland, TX.  Rodolfo was born in Corpus Christi, TX on February 17, 1947.  He eventually moved to Houston, TX and worked for the Houston ISD parts department for many years.
He was a devoted Husband, Father, Brother, Uncle, and so much more.  Most importantly, he was a man of the Lord who was steadfast in his faith.  In fact, it was this same love for the Lord that called him to serve as a eucharistic minister for some time.
In 2006, he was inducted into the Roy Miller High School Athletics Hall of Fame and was one of the Bucs' all-time premier distance runners.  His specialty was the mile run and he brought home the gold at the district, regional and state level.
His favorite place was in front of the barbecue pit listening to oldies and Tejano music with his family.  He also loved his Houston Astros, Rockets and sometimes the Texans.  A lively card game was something he always cherished.
He will be dearly missed by everyone who knew him, and we will always remember his big bear hugs.
He is preceded in death by his parents, Carlos Sr., and Guadalupe Vasquez; sister, Adriana Vasquez.
Rodolfo leaves behind his wife of 50 years, Maria Norma Perez Vasquez; son, Rodolfo Vasquez, Jr., wife Ashley Vasquez; grandchild, Jared Andres Vasquez; sisters: Rosie Morales (Joe), and Gracie Avalos; brothers: Mario Vasquez (Stella), Carlos Vasquez (Alice), and Armando Vasquez; sisters-in-law, Minerva Perez (Luis Deleon), Belinda Perea (Joe); brother-in-law, Reynaldo Perez (Grace); and numerous nieces and nephews.
In lieu of flowers, the family requests that you make donations to Leukemia and Lymphoma Society. Lls.com, PO Box 22324, New York, NY 10087.