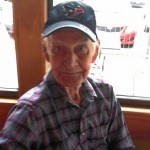 Robert Owen Schofield, Sr., of La Marque, Texas passed away August 10, 2014 at his residence in La Marque.
Robert was preceded in death by his wife of 62 years Anna Mae Schofield, his parents, and one son, Robert Owen Schofield, Jr. Robert is survived by one daughter, Karen Flowers (Mike); two sons, Larry Schofield (Penny) and Paul Schofield (April); daughter-in-law Gigi Schofield; two sister-in-laws Pasty Scott (Scotty) and Jean Boles (Jerry); and one brother-in-law Wayne Sanders; six grandsons, nine great grandchildren and numerous other relatives.
At Robert's request no services will be held. Anyone wishing to send condolences, memories, or pictures can send them to email schofy@sysmatrix.net.