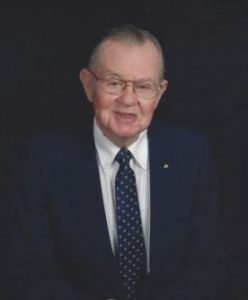 Robert J. Menzie, Sr., 88, passed away peacefully on Monday, September 18, 2017 in Houston, Texas.  Born on December 9, 1928, in DuBois, Pennsylvania, he was a son of the late James Freeman Menzie and Helga Johnson Menzie.  On September 8, 1956, he married Jean Blue Menzie, who preceded him in death in 2009.
Bob, known as "Buck" by his friends, graduated from DuBois Area Senior High School in 1946 and received a bachelor's degree in Petroleum Engineering from the Pennsylvania State University in 1950.  Bob spent most of his career working for Getty Oil Company in Houston, TX and Los Angeles, CA.  He acted as Financial Planner and retired as an executive.
Bob was a member of the F&AM Masonic Lodge in Bellefonte, PA and the State College Presbyterian Church.  He supported the Ruffed Grouse Society, the Western Pennsylvania Conservancy, and the National Rifle Association.  He enjoyed singing in the church choir, hunting, cheering for Penn State athletics, and spending time with his dogs.
Bob is preceded in death by his wife, Jean Blue Menzie, his three brothers, William D. Menzie, James Menzie, and Donald Menzie, and his granddaughter, Heather Michelle Menzie.
Bob is survived by three children, Robert J. Menzie, Jr. and his wife, Janet, of Katy, Texas, Raymond P. Menzie , of Anchorage, Alaska, and Elizabeth M. Fiske and her husband, Bruce, of Houston, Texas; four grandchildren, Morgan E. Menzie, Amanda C. Menzie, Lauren E. Fiske, and Nathaniel S. Fiske, and many loving nieces and nephews.
Bob's memorial service will be held on Tuesday, October 10th, 2017 at 11:00 a.m. at Soldier Community Church in Reynoldsville, PA.  Burial will be in Morningside Cemetery in DuBois, PA.
Memorial contributions may be made to the Menzie Family Endowed Scholarship, Penn State DuBois Campus, 1 College Place, DuBois, PA  15801.