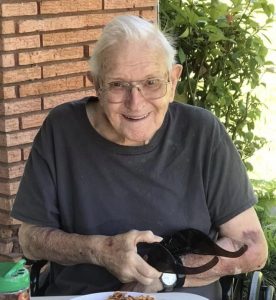 Robert H. Kennedy, (93) of La Marque passed away on Monday, September 26, 2022.  He was born May 20, 1929 in Galveston, Texas to Thomas and Easter Kennedy.
Robert was a longtime resident of La Marque, a member of Queen of Peace Catholic Church and was an Analyzer Supervisor for Amoco Oil Company.
He is preceded in death by his parents, wife Patricia Kennedy, son Bobby Kennedy, Godson Allen Whitmer, granddaughter Joleen Vaughn, brother Thomas Kennedy and sister Dorothy Clark.
Robert is survived by his three daughters; Sandra Minter, Cindy Raulerson (Mark) and Mary Kennedy; sister Edith Strybos,  two grandsons; Jesse Vaughn and Michael Collier, five great grandchildren; Ashley Vaughn (Rey),  Amia Vaughn, Cody Collier, Rebecca Hall (Rodney), Logan Collier,  and Tristan Collier and his great-great grandchildren; Rodney Hall, Jr., Weyman Hall, Izabella Hall, Klaus Hall and Heiden Fonseca.
A visitation will be on Thursday, September 29, 2022 from 6:00pm – 8:00pm at the Crowder Funeral Home, La Marque.