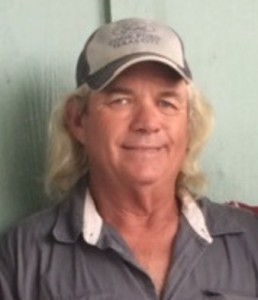 Robert Frank Schultz, son of Jerry and Bessie (Strimple) Schultz, was born November 3, 1956 in Galveston, Texas. He grew up in Port Bolivar with four sisters who loved him dearly. He lived there nearly his entire life. He loved fishing, living a simple life, being part of the Bolivar community, and of course, watching the Dallas Cowboys. Despite his strong and tough exterior, he was the teddy bear of the family; a kind big man, who loved his daughters, grandchildren, and his dog, Jackie (aka Jackie Lee).  He started working at a young age, including a stint in Yemen. For the last 21 years Robert was a hard-working, dependable, loyal employee of Texas Gulf Construction Company, Inc., where he was a Project Manager. He was dedicated and worked hard all of his life. On Thursday, May 12, 2016, Robert's life on earth ended suddenly and unexpectedly.
Robert is survived by his daughters, Meredith Getty and her husband, Alex and Ferrin Ramirez and her husband, Steven; three grandsons, Ty, Kyle and Luke Getty, and granddaughters Kiersten and Kaitlyn Ramirez; sisters and brothers-in-law, Rita and George Lind; Judy and Tim Deem; and Sylvia and Joe Comeaux; as well as many nieces and nephews who will all miss him immensely.
He was preceded in death by his parents, Jerry and Bessie Schultz, sister and brother-in-law, Ginger and Michael Ling, two infant siblings Jeree Lynn and Frank Schultz and many other family members including aunts, uncles and cousins. We find comfort in knowing he is now with those he loved and missed so much.
He always ended his calls with his daughters by saying, "Love you, too" before they could ever say it first. So until we see you again, "Love you, too!"
A visitation for Robert will be held on Tuesday, May 17, 2016 at 1:00pm with his funeral service immediately following at 2:00pm at Port Bolivar First United Methodist Church, 1121 Madison and 12th Street, Port Bolivar. Interment will follow at Port Bolivar Community Cemetery.
Serving as pallbearers are Delino Comeaux, Clayton Comeaux, James "JJ" Deem, John Kelso, Michael "Mikie" Ling, and Zach Williams. Honorary pallbearers are Joe Comeaux, Tim Deem, Alex Getty, George Lind, Wesley "Scooter" Ling, Steven Ramirez; and also Ty, Kyle and Luke Getty, who will miss their "P-pa Robert" and all of the things they would have learned from him.