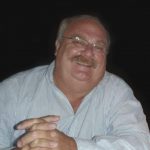 Robert E. Hochevar
June 7, 1951- February 10, 2017
Age 65, of League City, died on Friday, February 10, 2017. Born June 7, 1951 in Joliet Illinois, he has lived in League City since 1993. He was the husband of Paula Hochevar and they shared 31 years together.
Robert is survived by his children Jeffrey Hochevar (girlfriend Rebecca Stamm) of Rockdale, IL; Jennifer (Jeremy) Jurvick of Joliet, IL; Ryan (April) Hochevar of Seabrook and Mark Hochevar of Seabrook; his four grandchildren Jessica Jurvick, Mason Hochevar, Landon Hochevar and Lily Hochevar and many uncles, aunts, and cousins. Preceded in death by his parents Frank and Olga (Yarmolek) Hochevar.
Robert enjoyed life, loved to entertain friends, and always loved fishing, woodworking, cruising and having all the family home for the holidays.
Visitation will be held at the Crowder Funeral Home, 1645 East Main St., League City on February 16th from 5:00-8:00 P.M. A private family interment will take place at Forest Park East Cemetery in Webster, Texas.