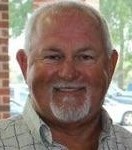 Robert Douglas Jones has finally made his last effort for attention on December 7, 2015. He was born in Hemphill, TX in 1951 to Thomas James "Chief" and Irene Speights "Snookie" Jones. He is survived by his wife of 19 years, the overly devoted and love of his life Lauren Slattery Jones. He left his good looks and dashing personality to his children:Esther Guerra (Ricky), Caleb Jones (Taylor), and granddaughter Ava Guerra "Puddin". Additionally, he is survived by his siblings, sisters: Jimmie Nixon (Billy), Patricia McBride (Roger), Karen Neal (Tommy), and brother, John Thomas Jones (Janice). He is also survived by his in-laws Pat & Legia Slattery, Denise & Mike Morales, John & Jeanna Hargrove, Pat & Angie Slattery and numerous nieces, nephews, cousins and friends.
Robert is preceded in death by his parents, brother, Don "Nubbin" Jones (Peggy), and sister, Mary Jane Conn (Joe).
He was an avid fisherman and golfer which he was both very good at.  If talent and personality were measured in having fun, then he was the best of all time! Robert loved spending time with his wife, family and friends. No matter the occasion, he always found a way to make people laugh and made everyone he came to know a better person. Although not an average life span, Robert didn't live an average life. He traveled where he wanted to travel, would tell jokes at the most inappropriate times, learned what he wanted to learn and became the world's best handy man with duct tape.
Robert's true passion was his work.  He truly loved his job and always said that, "If you love your job, then it's not work". He loved the relationships and friends he made over the years and impacted everybody that he spoke with. Robert Jones will be missed but never forgotten and always in our hearts.
Services will be held on Friday, December 11th at 12:00 PM in the chapel of Crowder Funeral Home, 2422 Broadway, Pearland, TX 77581. Robert was very punctual so don't be late! Robert was a casual guy so come wearing whatever makes you happy.  A celebration of his wonderful life will follow at Green Tee Country Club. Since Robert loved his rescued English Bulldog, Meatball, in lieu of flowers, please make memorial contributions to: English Bulldog Rescue Network of Houston,  www.ebrnhouston.com.