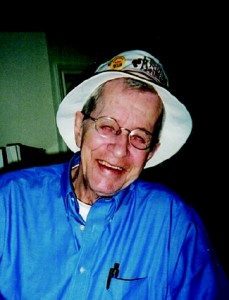 Robert "Bob" Metcalf
89 of Friendswood went to be with our Heavenly Father on December 30, 2014. Born in Urichsville, OH on January 21,1925. He found he had enough of the cold and snow and moved south in 1951. Bob is preceded in death by his loving wife Carmen, his sister Virginia Heidenreich, and brothers Bill and Eugene. Bob worked 32 years for Southern Pacific Railroad and retired as superintendent. He also served as Director for the Junior Achievement Program for the greater Houston area for over 30 years educating thousands of young men and women. He was a member of the Houston Toastmasters club and president of the Southeast Little League for 15 years, coaching and guiding young men. Bob is survived by his brother Arthur of San Antonio, daughter and Son in Law Karen and Jim Moore of La Grange, Son Stephen and wife Glenda of Houston, Robert Jr of Houston, Son William of Pearland, Son Richard of La Grange, Daughter Alice Kuhn of Houston, Son Michael of Houston, Son Charles and wife Cynthia of South Houston, Son James of Friendswood, and Son Thomas of Houston. As well as 42 grandchildren and 12 great grandchildren and the numerous extended family members. A visitation will be held from 3pm to 5pm on Friday January 2, 2015 and Funeral Saturday January 3rd at 11 am at Crowder Funeral Home in Webster.
111 East Medical Center BLVD
Webster, Tx.