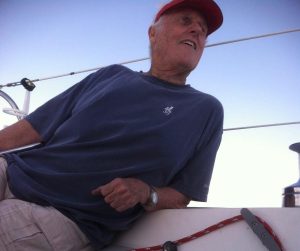 Robert (Bob) Howard Nute was a family man.  Bob met his wife Kay while attending Texas Tech University and were rarely apart since.  In 1967, after graduating together, they both headed to Houston.  Bob had been inspired by JFK's moonshot speech, and turning his dream into reality, NASA's Johnson Space Center became the center of his professional life for the next 41 years.  Bob spent his career at NASA's Mission Control Center, working on the Apollo, Skylab, Apollo Soyuz, Space Shuttle, and International Space Station programs.  During Apollo 13, Bob utilized his orbital mechanics skills to help bring the astronauts home safely, a deeply emotional story he enjoyed telling his closest friends and family.  In preparation for Apollo 14, Bob worked alongside Alan Shepard, training him and the other crew members on equipment to be used on the lunar surface.
Sailing was a lifelong passion.  Bob began sailing in his home state of Connecticut at an early age.  He sailed often in Galveston Bay and off the beach in Galveston in three different Hobie Cat catamarans.  Near retirement, he opted for a J30. Bob enjoyed tennis and played well into his 70's.  Bob and Kay enjoyed travel, including many trips to California wine country and four trips to Europe together.  They worshiped together at St. Paul the Apostle Catholic Church in Nassau Bay for more than 50 years.  Bob instilled the value of an engineering education in his two children, Lindsay and David.  Later in life Bob enjoyed spending time with his six grandchildren.
Bob passed away on October 22, 2023 at the age of 79.
Bob was born on October 30, 1943 to Grace Harrington Nute and Charles H. Nute.  Bob was preceded in death by his parents Grace and Charles and brothers Arthur and Peter Nute.  He is survived by his wife Kay of Taylor Lake Village; sisters Dorothy (Nute) Wiegel of Hobe Sound, Florida, Kathleen (Nute) Morrow of Durham, North Carolina, and his sister-in-law Shirley Nute of Hopkinton, Massachusetts; his children, Lindsay Nute Mulac and husband Brian of Huntsville, Alabama and David Nute and wife Jessica of Houston; grandchildren Adam, Caroline, Amelia, Claire, Bradley, and Nicole.
A flag ceremony honoring Bob's service with NASA will be held Thursday, November 9 at the NASA Johnson Space Center. A rosary will be said on Saturday, November 11 at 10:00 a.m., followed by the celebration of a Funeral Mass at 10:30 a.m. at St. Paul the Apostle Catholic Church, 18223 Point Lookout Drive, Nassau Bay, Texas, 77058.
In lieu of flowers, memorial donations may be made to the St. Vincent de Paul Society or to St. Paul the Apostle Catholic Church.