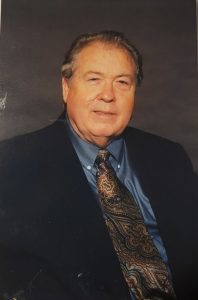 Robert was born on June 29th, 1942 to Avery and Virginia "Ginger" McBride of Mesa, Arizona. Robert was preceded in death by his parents, Avery and Ginger, Wife Bobbie Jean Copeland McBride of 32 yrs, Daughter Linda Jean Harvey and husband, Thomas Gene Harvey, Wife Pamela McBride of 27 yrs.
Robert is survived by his sister, Patricia McBride-Benard and brothers Richard McBride and Jim McBride. Children Brent McBride and wife Corrie, Dewayne McBride and wife Linda, Rhonda Hosea, and Tara Starnes and husband Brian. Stepchildren~ Morgan, Vanessa, Alicia, Tammy, Jason, Trish and Donny Clements.
He was blessed with many grandchildren~ Brent Alan, Ryan, Steven, Paige, Brandon, Amber, Christopher, Bil, Brad, Cheyenne, Bailey, Cassie, Christina, Bobby, Frankie, Robert and Ricky.  With 11 great grandsons and 9 great granddaughters.
Robert was dedicated to his Savior, his family and his church.    Robert worked for Kellogg Brown and Root as a timekeeper for 45 yrs.  He enjoyed spending time with his family and friends.
Robert was a resident of Seabrook, Tx for 48 yrs.
The Family will receive friends on Friday, June 24, 2022 from 5-9:00pm at Crowder Funeral Home, 1645 East Main, League City, Texas  77573.  A Ceremony will follow on Saturday at 1:00pm at the Church of Jesus Christ of Latter Day Saints at 4655 South Shore Blvd, League City, TX 77573.  Interment will take place at LaPorte Cemetery in LaPorte, Texas.