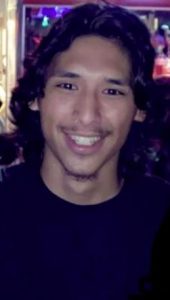 Robert Aaron Lozano, of Dickinson, TX, passed away on November 3, 2022, in Texas City, TX
Aaron was born on July 10, 1999, to Gilbert & Rebecca Epperson. After graduating from Dickinson High School in 2018, he decided to begin the same trade as his father. He worked at Bay Electric as an Electrician's apprentice. He later began working at the Port of Houston, Barbours Cut Terminals as a supervisor.
Aaron loved spending time with family. Some of the best times spent were meals he had with family at his grandma's house. Aaron loved playing basketball with his cousins, and it did not matter what time of day it was. Aaron was extremely competitive and enjoyed playing all sports from soccer to basketball. With his big joyful smile, Aaron was a stranger to no one and was authentically and whole heartedly there for those in his life.
Aaron was preceded in death by his grandpa Samuel Epperson Jr, his grandpa Julio Gonzales, and his grandma Dottie Epperson. Aaron is survived by his parents Gilbert and Rebecca Epperson; his sisters, Alesia & Alexis Epperson; his brother, Gabriel Epperson;  his grandma Herminia Perez; his grandma Toni Epperson; his Aunts/Uncles, Chris & Lucy Martinez, Cj & Rita Gomez, Jose & Anita Vega; his Aunts, Jennifer Wenner & Naomi Sifuentes his cousins Jazmine Melendez & CallenWestfall, Chris Martinez, Jalise Martinez, Leila Martinez, Paul Vega, Ulesis Vega, Jeremy Perez, Joshua Perez, Hope Martinez & Faith Martinez, Marisela Alvarado; many loving cousins and extended family.  Aaron was a loving brother, son, cousin, and friend to all.
A Celebration of Life & Memorial Service will be held at Crowder Funeral Home on November 11, 2022. Visitation will be from 6:00 pm to 7:00 pm. Services will be held from 7:00 pm to 8:30 pm. Dinner will be provided friends and family after the service at 1635 E.  Broadway Ste 113, Pearland, TX 77851. Family and friends are invited to come and share fond memories and stories. The family encourages attendees to wear their favorite dress up attire to remember how Aaron loved to look his best.