Rita Claudine Biddy Baumann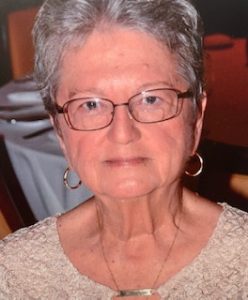 Rita Claudine Biddy Baumann, born March 16, 1940, died November 16, 2021 (age 81) in Texas City, TX at her home surrounded by family. Rita was preceded in death by her son Alan Scott Baumann, her mother Wilma Scruggs and her father Granville Biddy. She is survived by her spouse Robin O'Toole of Texas City, her son Randy Baumann of Venus, TX, her daughter Patty Baumann Hardesty (Louis) of Sanford, NC, Sister-in-law Ruthan Scott (Bud) of Lake of the Woods, VA, grandchildren Marcella Griffin, Travis Baumann, Dane Baumann (Nalani), Laura Hardesty Thompson (John), Daniel Hardesty (Elise), Michael Hardesty (Katie Mansfield) and 9 great grandchildren.
Rita was an only child and grew up in southern Oklahoma working in the cotton fields. She became a basketball star in school and was recruited with a full scholarship to Abilene College, but it was withdrawn when they found she was only a Junior in High school. She played until she married and started her family. After moving to Ft. Worth, TX she owned her own pet grooming business and turned it into a full pet shop. When her children were grown Rita went to college at UT Arlington and earned her masters of Social Work. She moved to Galveston to work at UTMB and eventually went to work for Hospice Care Team. Upon retirement from Social Work, she worked at Williams Party Boats in Galveston and fished regularly.
Rita loved fishing, playing poker, yard work, cruising, and family. She was involved in little league baseball for years as a parent, coach, score keeper and a board member.  She loved the Astros.
A Celebration of Life reception will be held Saturday, December 4, 2021 in Ponzini Hall at St. Mary's Church in Texas City from 1-4:00PM.  In lieu of flowers, donations may be made to: St. Jude Hospital or Hospice Care Team. https://www.hospicecareteam.org/,https://www.stjude.org/donate/donate-to-st-jude.html
Rita Baumann It is What it Is!!