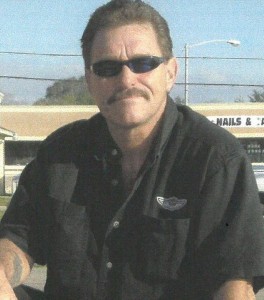 Rick Engelbosch, 60, of La Marque passed away on November 16, 2015. He was born August 4, 1955 in Riverhead, NY to John and Ernestine Engelbosch. Rick was a lifelong resident of La Marque for over 45 years; he loved his motorcycles and music.
He is preceded in death by his father John Engelbosch, step-daughter Tanya Pless, son Austin Engelbosch, nephew Stephen Engelbosch and brother William Engelbosch. Rick is survived by his mother Ernestine MaGouirk; his wife of 22 years, Tammy Engelbosch, sister Maureen Napoli, brothers Ernest Engelbosch and John Engelbosch; three grandchildren Elizabeth Engelbosch, Emily Engelbosch and Stephen Engelbosch, many nieces and nephews and his Little Buddies Kalvin and Eddy.
A Memorial Visitation will be on Friday, November 20, 2015 from 5:00pm – 7:00pm at the James Crowder Funeral Home in La Marque.