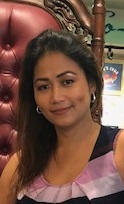 Richie de Leon Leone, passed away on June 23, 2020, HCA Houston Healthcare Clear Lake, at the age of 42.
Richie was born on February 1st, 1978, in Bagac, Bataan, Philippines to her parents Catalina Batol and Antonio de Leon.
Richie enjoyed eating out with family and friends and always looked forward to tasting new interesting cuisines. She loved spending time out with her friends such as dancing, fishing, and taking trips together. Richie also took particular joy in dressing up with her children for Halloween.
Despite losing her first husband at an early age, she persevered to provide for their two daughters and make sure they would have a comfortable life. Richie would end up travelling all over Asia to provide for her two daughters. She has visited Dubai, Hong Kong, India, and even Afghanistan where she eventually met her second husband. It was Richie's desire to one day take her children on adventures to the places she has seen and share these experiences with her kids.
Richie Leone is preceded in death by her mother Catalina de Leon, who also died of breast cancer. Richie's mother was a great source of inspiration for her. It was because of Richie's mother that she would learn the importance of family first and how to be a strong independent woman whom everybody could depend on.
Richie is preceded in death by her first husband, Venerando Mendoza, the father of her two daughters, Kaitlyann and Yvonne. Venerando shared Richie's values of family and always made sure that their family was provided for. Richie is preceded in death by her second husband, John Calvin Leone, the father of her son, Johnrich. John shared Richie's love for music, often showing it by serenading her every night.
Richie is survived by her children, Kaitlyann Mendoza, Yvonne Mendoza and Johnrich Leone, as well as her significant other Michael Jaster.
Richie was vibrant and lived her life on her own terms, she will be missed by her loved ones and all those who knew her.
The family would like to invite friends to her funeral service on Friday, June 26, 2020 from 10:00 AM – 2:00 PM with a Ceremony at 1:00 PM at Crowder Funeral Home, 1645 East Main, League City, Texas 77573.