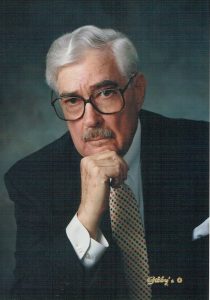 Richard Kirkpatrick passed away peacefully April 4, 2017. He was born February 4, 1934 in Hillsboro, TX to Howard and Marian Kirkpatrick. He lived on their farm until he was eight. Richard then moved with his family to La Marque, TX.
He graduated from La Marque High School in 1951 and then from Sam Houston State with a B.A. in music in 1955. He also earned a law degree from the Thurgood Marshall School of Law. Richard was a high school band director in Colmesneil and Carrizo Springs.
He married his college sweetheart, Martha Hudson in 1955. A couple of years later, Richard moved his family back to La Marque and taught English and History at Stephen F. Austin in Galveston. He later sold insurance for Sun Life and Farmers. He was elected and served on the state Board of Education in the 1960's. In 1973, he was appointed Galveston County Treasurer, a post to which he was re-elected many times. Richard served as the Galveston County Democratic Chairman in 1972.
In 1992, he co-founded Scenic Galveston an organization dedicated to restoring the wetlands near Galveston. He was also a member of the Galveston Garden Club. He even played a ghost at Dickens on the Strand.
He was an ardent Democrat his entire adult life and attended numerous Texas Democratic State conventions and served as an advisor for the Texas Democratic Party.
Richard loved to go to plays at College of the Mainland. In his later years he served as President of the COM Board of Trustees.
He is preceded in death by his parents Howard and Marian Kirkpatrick, his wife, Martha Kirkpatrick and his twin sister, Barbara Jordan.
Richard is survived by his son, Russell Kirkpatrick, daughter Linda Anthis, son-in-law, Jay Anthis, daughter Susan Kirkpatrick and son-in-law, Richard Cleveland, sister Virginia Nash, two granddaughters, Molly Wagner and Rebecca Kirkpatrick and many nieces and nephews.
A Memorial Visitation will be from 10:00am – 11:00am on Saturday, April 8, 2017 at the James Crowder Funeral Home in La Marque. A Memorial Service will follow at 11:00am on Saturday, April 8, 2017 at the funeral home.