Richard (Dick/Robby) Francis Robertson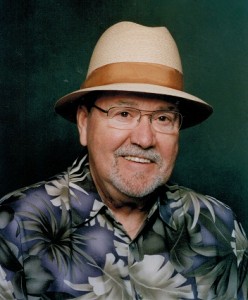 A memorial service will be held on Thursday, July 7, 2016 at 2pm at Crowder Funeral Home, 1645 East Main Street, League City, Texas.
Richard (Dick/Robby) Francis Robertson passed away on Monday, July 4, 2016 at his home in League City, Texas at the age of 79 after battling cancer. He was born to Wesley Bennie and Della Mae Robertson on November 13, 1936 in Festus, Missouri. He was the younger of two boys. Richard was preceded in death by his mother, father and brother, Jack Neil Robertson.
He is survived by his wife, Donna Robertson; daughter, Bennie Brumbalow and husband Andy; granddaughters, Aerron Brumbalow and Riley Brumbalow of Locust Grove, Georgia; sister-in-law, Sandy Robertson Wargo and four nieces, Debbi Nerstad, Susan Pride, Mary Gean, Kim Oliver and their families.
Richard served for 3 ½ years in the U.S. Air Force where he was trained in communication and electronics, which was followed by more than 45 years in Aerospace & Defense Programs.  He was involved in the Planning, Analysis, Engineering Testing and Training tasks and programs. He joined the Philco Corporation, later known as Ford Aerospace and LORAL, as a Tech Rep where he worked for 34 years; 5 years in Philadelphia, Pennsylvania, 3 years in El Paso, Texas, 7 years at the Johnson Space Center, in Clear Lake City, Texas, 2 years in Woomera, Australia and 18 years in Colorado Springs, Colorado. Richard retired in 1991 and moved to Clear Lake City, Texas where he continued consulting work for another 10 years. Even after retirement he never lost his enthusiasm and pride in our country's space exploration.
Richard was always a hard worker starting with his first job, a newspaper route, at the age of 9 years. His love of cars started when he was very young and continued throughout his life. He always took great pride in any old or new car he owned. One of Richard's great pleasures was to gather with old friends at the IST (Instrumentation Support Team) Old Timers luncheons which he was a founding member. He will always be remembered by his bigger-than-life personality, great story telling and joyous laugh.