Richard "Billy" William Simmons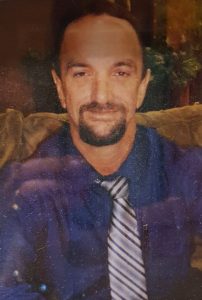 Richard "Billy" William Simmons, 46, of Webster, Texas, passed away November 4, 2017, in his home. Billy was born November 17, 1970, to Everette and Nancy Simmons in Florida. Billy has worked many years for Franco's Refrigeration, Air Conditioning and Heating, Inc. of Houston. He was preceded in death by his father and his beloved wife, Gloria Vega Simmons.
Billy is survived by his mother; sisters, Lisa Ramos and Susan Trevino and husband Jason; Brothers, Everette M. Simmons., Jr. and Robert Joseph Simmons; Nieces, Krystyl Mendoza, Koral Mendoza, Kalia Ramos, and Aryana Trevino; and Nephews Caleb Trevino, Colby Trevino, and Michael Trevino.
A visitation in his honor will be held 6:00 – 8:00 pm, Thursday, November 09, 2017, Crowder Funeral Home, Dickinson, Texas, with graveside services 2:30 am, Friday, November 11, 2017, South Park Cemetery, Pearland, Texas.