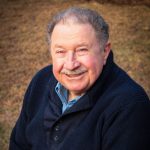 Richard B. Wray February 20, 1947 – May 27, 2023
Richard B. Wray (Dick Wray) beloved husband, father, and grandfather passed away Saturday May 27, 2023 in his home surrounded by his family after a lengthy battle with Cancer. Dick was 76 years at the time of passing. Dick proudly served his country in the United States Air Force for 27 years retiring as Lt. Col. He worked as a senior systems engineer for over 40 years. He was a member of INCOSE, MOAA, and the Gyro Organization of Ohio.
Dick was an avid lover of books, flash lights, sci-fi, and M&M candy.
Dick is survived by his wife of 48 years Beryl Marie (Kenrick) Wray of League City TX. His 3 children Maryann Donovan and her husband Michael of Wilmington, MA, Matt Wray and his wife Tammy of League City TX, and Kristen Wray of League City TX. Grandchildren James and Leah Donovan and Matthew and Taylor Wray. Brother of Sandy Wray (TX), Teena Wray (FL) and Jon Wray (ID). Dick was the son of the late Elwood and Mildred Wray.
Visitation will be held Saturday June 3, 2023 from 11:00 am to 12:00 pm with Military Honors at 12pm.