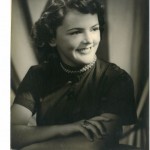 Rhuella Farrell Owen, 80, of Chappell Hill, passed away on Sunday, August 3, 2014 in Bryan, Texas. She was born to Pat and Margaret Farrell in Ellis County, Texas. She was formerly a resident of La Marque and a longtime member or the St. Michael's Episcopal Church.
Rhuella is preceded in death by her husband Bobby R. Owen, beloved daughter Vikki Sue Owen and her parents. She is survived by her granddaughter Victoria Suzanne Fitzgerald; her son-in-law, Peter Fitzgerald, both of Katy; sister-in-law Jeanne Owen; nephew Sam and his wife Lisa Owen and their children Carter and Cohen; life-long friend and companion Billy Roberts; life-long friends Mae Francis Johnson of California and Jere Hazlitt of Galveston, and Sherrie Pettyjohn of Polk County. We will miss her sweet face.
A visitation will be held on Wednesday, August 6, 2014 from 10:00AM to 12 Noon at the James Crowder Funeral Home in La Marque, TX. A graveside service will be held Wednesday, August 6, 2014 at 1:00PM at Galveston Memorial Park Cemetery at 7301 Memorial St., Hitchcock, TX with Father Bob Moore officiating.
Memorials may be made to the Vikki Owen Scholarship at Texas A&M 109 Kleberg Center 2471 TAMU College Station, Texas 77843-2471. Email: animalscience.tamu.edu.