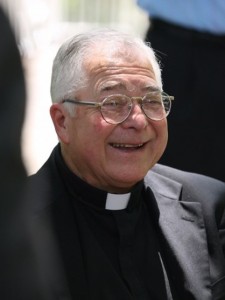 Rev. Kenneth E. Mikulik, 88, entered into eternal peace on June 27, 2016 at St. Dominic's Nursing Home in Houston. Father Mikulik was a faithful and dedicated priest of the Galveston-Houston Roman Catholic Archdiocese for 63 years. Born on November 18, 1927 at Yoakum, Texas, he was the son of Joseph John Mikulik and Pearl Kuhn Mikulik. During his boyhood the family relocated to Texas City, Texas where Kenneth attended public schools and finished high school at Kirwin in Galveston in 1945. He immediately entered St. Mary's Seminary in LaPorte, Texas and was ordained to the priesthood in 1952. He served the diocese as an Assistant Pastor at St. Vincent de Paul parish, Sacred Heart Cathedral and St. Cecelia's in Houston, among others. Father Ken became a pastor in 1966 at Needville and served in that capacity at several other urban and rural parishes in and around the Houston area. His longest assignment was as pastor at St. Jerome's in Houston. He spent the last 15 years before his retirement based at Shrine of the True Cross parish in Dickinson but acting as an itinerant pastor traveling from parish to parish throughout the diocese to meet the bishop's need to ensure that churches temporarily without a priest were administered. He was a strong advocate of social justice for the poor and served as Diocesan Chaplain for the St. Vincent de Paul Society Central Council for many years. Father Ken retired in 2002 at age 75 to Hempstead, Texas where he resided at St. Katharine Drexel parish.
Father Mikulik was predeceased by his sister, Joyce McConnell, and is survived by brother Weldon of Taylors, South Carolina, and sisters Francine Fleming and Janice Oettmeier of Houston. "Praise the Lord" for the blessing of Father Kenneth in our lives.
A Visitation with the family will be held at 9:00 am, Friday, July 1, 2016 in the chapel at St. Dominic's Village, 2401 Holcombe Blvd., Houston. At 10:00 am the funeral Mass will be celebrated and burial will follow at Mt. Olivet Cemetery in Dickinson.
Condolences may be sent to the family by visiting journeyfoundation@gmail.com. Donations may be made in Father Mikulik's memory to the St. Vincent de Paul Society at 2403 Holcombe Blvd., Houston, TX 77021.
The family wishes to thank the staff at St. Dominic's Nursing Home and Buckner Hospice.
Crowder Funeral Home, Dickinson, is serving the Mikulik family.