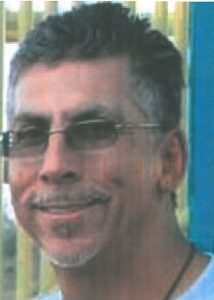 Raymond Escalon, 63, a lifelong resident of Houston, TX, passed away April 27, 2021 at his residence.
Raymond was born in Houston, TX on November 23, 1957.  He worked many years in the automotive field and enjoyed fishing, music and all the Houston sports franchises but most importantly he had a love for Jesus and preaching in numerous ministries. He also loved his country and would help many people he met even if it was little means, he had a heart of gold and made friends with everyone.
Raymond reunites with his parents, Mary Esther Escalon and Raymond Escalon, Sr.; son, Christopher Logan Escalon; and two brothers, Adolph Longoria and David Longoria. He is survived by his son, Matthew Ray Escalon; sister, Teri Bonnel and husband Michael; brothers, Eddie Escalon, wife Rhonda, Daniel Escalon, wife Joanna and Manny Escalon; four grandchildren, Aaron Escalon, Xzander Escalon, Maddison Escalon and Avalynn Escalon; eleven nieces and nephews: Robert Meza, Jr., Jennifer Barranco, Jessica Meza Garcia, Melanie Longoria, Emanuel Escalon, Erika Escalon, Krista Escalon, Marley Escalon, Jordan Escalon, Joseph Escalon and Stephanie Escalon.
Funeral service will begin at 9:00 a.m., Monday, May 3, 2021 in the chapel of Crowder Funeral Home in Pearland, TX. Burial to follow at Forest Lawn Cemetery in Houston, TX.
The pall bearers are: Michael Bonnel, Manny Escalon, Daniel Escalon, Emanuel Escalon, Matthew Escalon and Joseph Escalon.