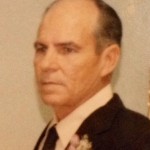 Earl Rayford "Ray" Myers passed away Saturday, September 6, 2014 in La Marque, TX. Ray was born in Sulfur, Louisiana to Henry P. Myers and Phoebe Marie Smith. He moved to Galveston County over fifty years ago and met Yetta Allen Hursh while working as a stage hand in a play at the University of Houston. They married and raised four girls in La Marque, TX. He provided for his family while working as a plumber/pipefitter out of the Pipefitters Union Local 106 in Lake Charles, Louisiana before transferring to Local 211 in Houston, Texas.
Ray was quick witted which often kept those around him smiling or scratching their heads. He loved people and had many 'friends in low places' whom he helped out a time or two because of his generous nature.
He was a good cook and loved to whip up a big spread for family anytime but especially during the holidays. He had many hobbies throughout his life: bowling, fishing, hunting and camping. Ray was a huge fan of LSU Tigers.
Ray is preceded in death by his wife Yetta Allen Myers; daughter Gaye Myers; brother Ernest John Callahan; his parents and a special aunt & uncle, Mary Clarice Smith DuBose & William Harold DuBose who raised him after his mother's death when he was only 9 years old.
He is survived by his daughters: Glenda Jernigan (Ray), Gail Myers, and Gwen McLaren (Keith); grandchildren: Christina Urbina, Catherine Sturm (Lazarus), Robert Earl McLaren and fiancé Jenny Day, Jeremy James (Holly), Justin McLaren, Cole James (Elizabeth), Bryan McLaren, Chad Sturm and fiancé Taylor Mongiello and Chase Sturm; great grandchildren: Angelina Urbina, Kaylee James, Justin McLaren Jr., Colin Urbina, Skyler Sturm, Clyde James, and McKinlee James. His grandsons are honored to be his pallbearers.
A visitation for Ray will be held on Tuesday, September 9, 2014 from 5:00PM to 8:00PM at the James Crowder Funeral Home in La Marque, TX. A service will be on Wednesday, September 10, 2014 at 10:00AM at the funeral home. Interment will follow at Mt. Olivet Catholic Cemetery in Dickinson, Texas.