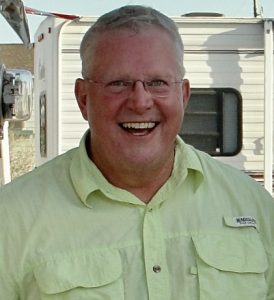 Randy Paul Jones died very unexpectedly, December 29th, 2022, from a heart attack at his home in LaMarque. He was 67.
A native of East St. Louis, Missouri, Randy was born October 15, 1955. He and his family relocated to Galveston when he was just 10 years old. When he and his family crossed the Causeway to Galveston Island and saw the bay for the first time, Randy's thought was "Man! I get to go fishing here every day."   And, indeed, he did!
Randy graduated Ball High School in 1974.  Shortly after graduation, he joined the Army and served four years in West Germany- assigned to a Pershing Missile unit. When he completed his military service, he attended the University of Houston and graduated with a degree in Business Management. Most of his business career was focused on information technology and Health Care Services. Throughout his professional career, he worked for American National Insurance Company, Union Carbide, Clear Lake Regional Medical Center, and UTMB in Galveston.
Randy is survived by his dear wife of 42 years, Jody Smith Jones; his three daughters: Julie Scully and husband, Kenny; Sarah Quintero, and Melissa Benedict, and husband, Kent. He is also survived by his seven grandchildren: Shelby Ibrahim and husband, Hasan; Megan Rich, Robert Scully, Ally Quintero, Avery Quintero, Camryn Benedict, and Aubrey Benedict. Also surviving Randy are his sisters: Sue Jannakos, Sally Diaz, and husband, Richard, as well as numerous nieces and nephews. Randy is also survived by his in laws – Gerald and Patsy Smith, and his sister-in-law, Leslie Smith. He was proceeded in death by his parents, Sarah and Forest Fitzgibbons.
Besides his successful business career, Randy Jones gave back to his community through many different activities.  He was a long-time member of the Rotary Club of Galveston. He was a volunteer fireman and EMT while working at Union Carbide.  Also, while working at Carbide, Randy was an integral part of the popular Clown Brigade where he entertained youngsters and participated in many community-wide events and parades.
In addition, he was one of THE most popular Santa Clauses ever – both at his places of employment, and playing Santa for functions where his wife, Jody, worked.
He will be remembered as an extremely intelligent, giving, loving, genuine gentleman who sincerely cared about others before himself. Randy was always a positive person and one who would be the "best friend" a person could ever hope for…. Truly one of a kind, and a person who would literally "give you the shirt off his back if you needed it."
His grandchildren will always remember their wonderful Buddy – as they called him – when they hear the song "You Are My Sunshine" – as that was his song he sang to each of them while rocking them to sleep.
Indeed, Randy Paul Jones loved his wonderful family: His beautiful wife, Jody; his children, and grandchildren. To say that Randy "lived and breathed" for his children and grandchildren – is an understatement.
Yet – even though his family was his #1 priority, and his volunteer activities and commitment to his community- very important, Randy often had other fun priorities on his mind.  First, he loved to take friends and family on fishing excursions.  Secondly, he loved to host fish fries and crawfish boils at their family fish camp.
Indeed, nothing was more important to him than his wonderful family, but without question…. Fishing was a close second.  In fact, Randy was such a huge fisherman – he had a sign posted in his office that stated: "IF there is no fishing in Heaven…I ain't goin'."
By his wishes, Randy was to be cremated.  A special Celebration of Life reception will be held at 1pm, this Sunday, January 8, at The San Luis Hotel, 5200 Seawall Boulevard, Galveston. The reception will be in the Main Sail Room, 2nd floor.
In lieu of flowers, contributions to Shriner's Burn Hospital for Children will be greatly appreciated. For on-line contributions: https://donate.lovetotherescue.org/InMemoryofRandyJones.  To mail a contribution, please address to: Shriners Children's Texas, Attn: Donor Development, 815 Market Street, Galveston, Texas, 77550.