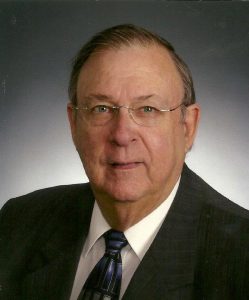 SERVICES ARE PENDING
Ralph Parr, 83, passed away on February 29, 2020. He was born in Galveston, Texas to Arthur and Olga Parr; the youngest of 8 children. He always said he was BOI-RLC; "Born on the Island, Raised in League City".
He was a graduate of Webster High School. He left League City for San Marcos to attend Texas State University where he majored in Journalism and Education. While at Texas State he was named a Gaillardian (all college favorite) and was editor of the College Star. After graduating in 1958 he stayed in San Marcos and taught 2 years at San Marcos Baptist Academy and began working on his Master's degree.
He returned to his home town of League City to begin teaching English and Journalism at Clear Creek High School. While teaching for 10 years he continued working on his Master's degree and received that from the University of Houston. He became an administrator with the district and was an assistant principal at Clear Creek High School and then Clear Lake High School. In 1982 he returned to Clear Creek High School as the Campus Principal. He held that position until 1994. He retired that year when his only son, Richard, graduated from Clear Creek High School. Two years later he was elected to an at-large trustee position on the Clear Creek School Board and served 3 terms.
One of his proudest moments was in 2009 when he became the namesake for the District's 25th elementary school; Ralph Parr Elementary. It is located on Highway 3, about 3 miles from where he grew up.
He is survived by his wife of 47 years, Claudia Parr, and their son Richard Parr. He is also survived by a sister-in-law, Marian Parr, a brother-in-law, Robert Scheske, and numerous nephews and nieces.
Ralph was a member of the League City Methodist Church. His true interest, even in retirement was the school district and of course the hundreds of students whose lives he touched during his years in Education.
He enjoyed traveling and loved going to New York to watch Broadway shows. Tennis was a real favorite of his and he loved watching all the major tennis tournaments. Of course he continued to be the "first man in the stadium" at the numerous sporting, and artistic events with the school district.
In lieu of flowers the family asks that you consider making donations to the Clear Creek Education Foundation in memory of Ralph Parr. This can be sent to CCEF, P.O. Box 1631 League City, TX 77574 or memorial donations can be made online at www.clearcreekeducationfoundation.org.