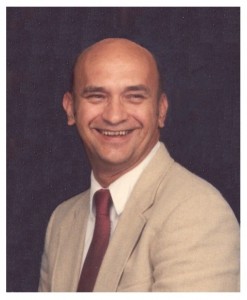 Ralph Joseph Marak was born in Houston on January 14, 1938 to Joe L Marak and Agnes Brosman Marak.  He attended St Thomas High School, St Thomas University and graduated June 2, 1962 from The University of Houston with a Bachelors of Science in Mechanical Engineering.
New Years Eve of 1962, Ralph went on a blind date with Sarah Lawrence and they were married in January of 1964.  They have 4 children, Carol Marie Marak Beason, Linda Susan Marak Ossa, Rebecca Jane Marak and Ralph Joseph Marak, Jr.  They also have 2 grandchildren, Wyatt Joseph Beason and Sarah Elizabeth Beason.
Shortly after graduation, Ralph began working at NASA – Johnson Space Center on June 18th of 1962.  With a career spanning 53 years, Ralph worked on every NASA mission except the Gemini project, and this was only because he was immersed in the Apollo missions.  His specific projects included contributions to the Lunar Roving Vehicle and extensive work on several versions of the Space Suit.  Ralph's work with the Space Suit led to work with an external project by NASA to assist David Vetter (aka the "Bubble Boy").
Ralph's dedication to his work has resulted in many awards.  In 2000, Ralph received the Silver Snoopy Award – given to just 1% of the eligible NASA employees or contractors for their dedication and outstanding support to flight safety and mission support.
Ralph also enjoyed many hobbies away from work including sailing, skiing, fishing and duck hunting.  He had a lifelong passion for flying, though this was mostly focused on building / flying / crashing / fixing remote controlled airplanes.  Ralph also had a fascination for all things technology related.  He built the family television with transistors and vacuum tubes (adding on with aluminum foil and locking pliers).  His love of tinkering evolved into building computers and even more advanced remote controlled aircraft.  This inquisitiveness served him well at work where he was the point of contact on his team to successfully navigate the iPod Touch for an ongoing mission.
Ralph passed away peacefully on March 23, 2015 at MD Anderson Hospital after a brief battle with lung cancer.  He is survived by his wife, Sarah; his children Carol Beason (husband Ryan Beason), Linda Ossa (husband Alejandro Ossa), Becky Marak and Ralph (RJ) Marak, Jr. (wife Elaine Marak); and grandchildren Wyatt Beason and Sarah Beason.  He is preceded in death by his parents Joe and Agnes Marak.
A celebration of his life will be on April 7, 2015 at the NASA – JSC Gilruth Center from 11:30am – 2:00pm in the Alamo room.  The address is 18753 Space Center Blvd, Houston, TX  77058.  This facility is accessible to the public.  The American flag was flown at half-mast in honor of his service to NASA and will be presented to his family at the celebration.
A memorial tree will be planted in his honor at the JSC Memorial Tree Grove.
Donations are requested in lieu of flowers to the NASA College Scholarship Fund.
NASA College Scholarship Fund, Inc.
NASA/Johnson Space Center, Mail Code: AH 2101
NASA Parkway
Houston, TX 77058
281-244-7222