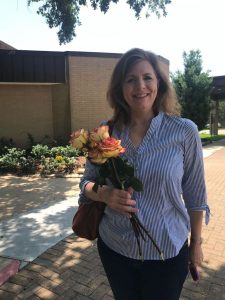 Phyllis Hebert Russo, 61, passed away on Monday, April 17th in Houston, Texas. She was born on November 16th, 1961, in Lafayette, Louisiana, to Calvin and Shirley Hebert. Phyllis is survived by her: husband, Louis Anthony Russo, Jr.; sons, Christopher Wade Russo and wife Theresa Russo and Michael Paul Russo and wife Kendall Russo; sisters, Michelle Hebert and Lynette Cumings and husband, Clint Cumings; grandchild, Eric Benjamin Russo, and numerous family members and friends. She earned a nursing degree from the University of Louisiana Lafayette. Phyllis worked as a nurse in Lafayette, Lake Charles, and Houston Medical Center for eight years until becoming a full-time mother. She sacrificially cared for others and loved arranging flowers for members of her family and her church. We grieve the emptiness left behind by Phyllis' passing but are comforted with the knowledge that Phyllis is victorious and rests in the bosom of our Father, along with her mother and father whom she loved and missed so much. While Phyllis' life was too short, the way in which she lived the life God granted her will be her everlasting legacy.
A viewing will be held on Wednesday, April 19th from 6-8pm at Crowder Funeral home, 111 E. Medical Center Blvd, Webster, TX 77598. A memorial will be held on Thursday, April 20th at 10:30 am at St. Clare of Assisi Catholic Church, 3131 El Dorado Blvd, Houston, TX 77059. Graveside service will be in Morgan City, Louisiana at 11:00am on Friday, April 21st with Fr. Mike Tram.
In lieu of flowers those wishing to make a memorial donation in Phyllis' memory may do so to Saint Clare's Catholic School (3131 El Dorado Blvd, Houston, TX 77059) or St. Jude's Children's Hospital (262 Danny Thomas Place Memphis, TN 38105).