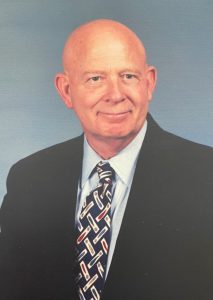 Perry Lee Arthur Hale, our beloved daddy, of Kemah passed away on Tuesday, September 14, 2021, in League City, Texas at the age of 92. He was born on February 22, 1929, in Fort Worth Texas to Arthur Columbus and Bessie Benton Hale.
He left an incredible legacy of commitment to the values of faith, family and hard work to those he loved.
Hard work was an essential part of his life which he applied right away in his professional career as a roust-a-bout in the oil fields of West Texas for Gulf Oil Company.  He worked for Gulf Oil 38 years, eventually running the alpha olefin unit in Baytown, Texas.  Upon retirement, he embarked on a new career of building and repairing all types of calibration equipment for many different industries. You never saw him happier or more excited than when he had repaired a ham radio or sold some of his precious vacuum tubes or a calibration panel.
Perry honored his faith as a deacon of the Lakewood Church of Christ and taught many lessons from God's Word, but the most powerful lesson was the life he lived and shared with those around him every day. It was commonplace for his daughters to see him assist someone down on their luck with a bus ticket to get back on their feet, demonstrating his care and compassion anonymously.
Married to his precious wife Bobbie for 71 years, he cared for her valiantly until her death, even though she had advanced dementia for the last 10 years of her life.  Rarely did you hear him complain or fuss about even the most mundane details of her care.  She left this earth knowing that she was loved unconditionally.  As his family, we saw this incredible commitment daily.
As each of his three daughters grew, married and had children, he became a grandfather and great grandfather that imparted sage advice not only by the example he quietly lived, but by his presence at so many of their special events though they were scattered throughout the country.  When his grandchildren would ask why he often wore a hat he would tell them, "to keep my bare head from getting cold."  As he aged Perry called himself the "old man in a hat" on family voicemail messages.
A lover of all genres of music, Perry was passionate over country music. He listened to George Strait, Charlie Pride, and George Jones; often laughing and talking about their song lyrics.
He was proceeded in death by his wife, Bobbie and his brothers, Vance and Jerry Hale.
Perry is survived by his brother, Rex Hale, his daughters Lynne Elliott and her husband Rex, Leslie Gibbons and her husband Fred, and Laura Gomez, grandchildren Michael Elliott, Joshua, Gibbons and his wife Leslie, Jonathan Gibbons and his wife Laura, Jason Gomez and Ryan Gomez and great grandchildren Michael Elliott, Xiomara Gomez, Bonnie Grace Gibbons and Callen Gibbons.
A Celebration of Life will be scheduled later in Fort Worth, Texas.
To view a video tribute: