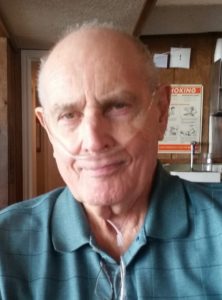 Percy Higgins Hammond "AKA" Buster and "PH" to his family and friends.
Percy passed away peacefully on February 13, 2023, at the age of 83.  He was born August 16, 1939, in Houston TX, and was a resident of Pearland since 1978.
Percy graduated from Angleton High School in 1957.  He joined the US Army as a Medical Repairman on October 7, 1957, trained in Ft. Carson, Co, St. Louis, MO, Ft. Jackson, SC, and served at the Mobil Army Surgical Hospital (7th MASH) until October 6, 1960.
In 1961 he went to work for Britain Electric as an apprentice and worked for Britain for 42 years, and was an active member of IBEW Local #716 for 43 years, retiring on August 16, 2004.
Percy was diagnosed with COPD while he was still working, and with Non-Hodgkin's Lymphoma on August 16, 2007, and was told he was cancer-free after 5 years of treatment.
Percy is preceded in death by his parents Edgar Charles Hammond, Sr., and Clara Belle Hammond; brother Charles (Charlie) Hammond, sisters Lillian Brannan, Audrey Lucky, and Nina McKay.
He leaves behind his loving wife of 48 years, Katherine "Kathie" Ann Graham Hammond, and the entire Graham family; his sons Scott Hammond (wife Michelle) and Troy Hammond; grandchildren Austen Hammond (wife Brandy), Garrett Hammond, and Wyatt Hammond; great-grandchildren Tyler Hammond and Mikah Hammond; brother Marvin Hammond; sisters Virginia Camp (husband Nelson), Mary Anne Hornbostel, Wanda Hazlewood (husband Roger), and Jackie Belle; and numerous nieces and nephews.
Percy was a talented electrician, carpenter, and overall craftsman.
He loved working in his favorite place (his backyard) and remodeling his house in Pearland and his in-law's house in Port Bolivar with his brother-in-laws (building cabinets, siding, etc.).  His hobbies were fishing/shrimping, hunting, woodworking, riding motorcycles, and traveling in the RV with family and friends, and beloved canine companions Mollie and Cooper.
He greatly enjoyed camping with his grandsons Garrett and Wyatt in Jellystone Park over Spring Breaks.  His smile was contagious and once you came to know him, you couldn't help but love him.  He enjoyed keeping company with his friends and neighbors, and they all enjoyed his quick wit and ready humor.
Percy continually expressed his love and gratitude for all the blessings of his life and family.  His loving presence and strength of character will be greatly missed by all.
A memorial visitation will be held from 2 p.m. to 4 p.m. Saturday, March 4, 2023, at Crowder Funeral Home, 2422 Broadway, Pearland, TX 77581 (phone 281-412-3000).
In lieu of flowers, please consider a memorial contribution to the charity of your choice.