Pauline "Polly" Barker Donahue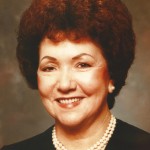 Pauline "Polly" Barker Donahue, 91 years of age, current resident of League City, Texas, passed way on February 19, 2014 at 3:21pm. Mrs. Donahue was born on January 19, 1923 in Arkansas to parents Gus and O'Zella Hemphill Barker. She was raised in El Dorado, Arkansas where she lived until 25 years ago, when she moved to Texas to live closer to her family. Mrs. Donahue was of the Baptist faith. Polly worked in the retail business in El Dorado, Arkansas for many years. She was known for her great cooking and her pride and joy was gathering for family celebrations. She loved going to the movies and out to dinner. She was happiest when all her family was together.
Mrs. Donahue was preceded in death by her parents, five brothers and two sisters, a beloved niece, and son-n-law Everett W. Fore of Alvin, Texas. Pauline Donahue is survived by her sisters Norma Jean Rogers of North Little Rock, Arkansas, Betty Sue Roberts of El Dorado, Arkansas and Francis Barker of Tyler, Texas; her daughters and sons-n-law Jo and Richard Sweeney of League City, Carolyn and Michael Brewer of Alvin, Betty Fore of Friendswood, Rosemary and Richard Lynn Hurst of League City. She is also survived by her beloved grandchildren Michelle and Keith Jackson of Alvin, Gregory and Sylvia Drummond of Houston, Shawn and Scott Meuth of Angleton, Lori Brewer Pitts of Alvin, Kirk and Wanda Fore of Arlington, Anthony and Alicia Hurst of League City, Shannon and Crystal Sweeney of League City, and great grandchildren Colton D. Pitts of Alvin, Hannah K. Meuth of Angleton, Kendall N. Drummond of Houston and Brayden J. Hurst of League City and numerous nieces and nephews.
It was Mrs. Donahue's wish to be cremated. Services under the direction of Crowder Funeral Home in League City. We would like to say a special thank you to Mrs. Setha Yantz and the staff of A-Med for providing continuous and compassionate care of our beloved mother. Mother will be greatly missed and never forgotten. She will live forever in our hearts.
A memorial service will be held at 2:00pm on Sunday, February 23,2014 at Crowder Funeral Home, 1645 East Main Street, League City, Texas 77573