Pauline Joan Rizzuto Magliolo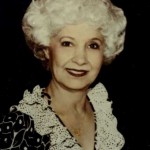 Pauline Joan Rizzuto Magliolo, 99, resident of Houston, Texas, passed away February 19, 2014. She was born in Houston, Texas on October 21, 1914, the daughter of Lena and Charles Rizzuto. She graduated from St. Joseph Nursing School in Houston in 1936. She married Dr. Joseph C. Magliolo in 1938 and helped her husband in his medical practice in the Dickinson-Galveston County area. She was a member of the Shrine of the True Cross Church in Dickinson and a charter member of the Catholic Daughters of America. Pauline is survived by her son Joseph C. Magliolo Jr., his wife-Connie, brother, Phillip Pizzatola; and grandchildren Katherine Magliolo, Alexandra Magliolo Heins and husband Anthony, along with numerous nieces and nephews.
Visitation will be held from 6:00 p.m. – 8:00 p.m. Friday, February 21, 2014 with a Vigil beginning at 7:00 p.m. at Crowder Funeral Home in Dickinson, Texas. A Mass will be held at 1:00 p.m. Saturday, February 22, 2014 at Shrine of the True Cross Catholic Church in Dickinson with Father Larry Wilson officiating. Interment will follow at Mt. Olivet Cemetery.