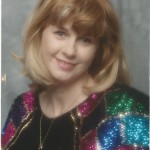 Paula D. Holowaty, passed away on Friday, February 21, 2014 in League City, Texas at the age of 57. Born on August 15, 1956 in Boston, Massachusetts to Paul and Janice Grenon.
Paula was a nurse having worked in many venues such as nursing homes, healthcare clinics and hospital, private physicians' offices, and home healthcare. She enjoyed gardening, traveling, camping, sailing, and caring for those in need. Paula especially loved animals and befriended neighborhood horses, dogs, cats, and the occasional wild rabbit or possum. Her nurturing was second nature, almost legendary.
Preceded in death by Edward Digiovanni (stepfather), Janice Lyttle (mother) and Paul Grenon (father).
Survived by husband Terry (Toby) Holowaty, daughter Nicole Holowaty Nixdorf, son-in-law Scott Nixdorf, brothers Paul Digiovanni and wife Susan, Robert DiGiovanni and wife Dana, and Michael Weathers.
[No cementary]
In Paula's memory, donations may be made to Second Chance Pets, POB 1216, League City, TX 77574. Don't forget to spay and neuter your pets.