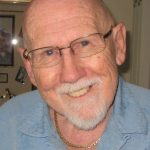 Paul Thomas McLaughlin, "MAC", 93, passed away peacefully on March 5, 2017, in Amarillo, TX.  He was born December 19, 1923, in Ilion, NY, to Dennis James and Clara Elizabeth McLaughlin.
Paul graduated from Ilion High School in 1941.  He worked with his father at the Library Bureau, the Woodworking Division of Remington Rand, and Andover Kent Aviation, a subsidiary of Remington Rand.  He loved music from an early age; he played the piano, trumpet, and baritone horn.  Mac even had his own dance band in high school.  He continued to play in bands for many years.  Mac could whistle any tune as well.
Mac enlisted in the Marines and served two terms, WWII and the Korean War, and even had the opportunity to play in the Marine Band.  He epitomized the saying, "Once a Marine, Always a Marine".
Mac was deeply devoted to his wife, Carol.  He loved to recount the story that began so long ago…  The story of how the love of his life was born in the same town, in the same hospital, delivered by the same doctor 26 days after he was born.  They then met in high school, graduated together, and spent almost 69 years of marriage together.
Mac retired from IBM after 33 years where he was a personnel manager.  He and his son started a skylight repair business, MEI, which has been in business for over 31 years.
Mac enjoyed bowling and was happy to win/medal in several Senior Olympics. He also had a career high score of 298 and kept the pins that were left behind just to remind him.
He was very devoted to his family and will be missed.
Mac is survived by his Daughters, Karen Clement and Jean Morris with her husband, Jesse; Son, Dennis McLaughlin and wife, Rene; 9 grandchildren, 9 great grandchildren, and 3 devoted nieces, Lynn, Lesley and Susan.
A Memorial Service will be held on Friday, March 17, 2017, at 10:00AM, at Crowder Funeral Home, League City.  The family requests that you wear green in honor of St. Patrick's Day and Mac.  In lieu of flowers, those wishing to make a memorial donation in Paul's memory may do so to, Semper Fi Fund @ semperfifund.org.