Paul Joseph Piro AKA the Piromaniac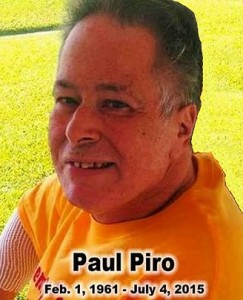 Wake and funeral service for Paul Piro are as follows; wake will be August 3,2015 at Saint Paul's Catholic Church at 7 p.m., funeral will be at 10 a.m. on August 4th. Address to the church is 18223 Point Lookout Drive, Nassau Bay, TX.
Paul Piro was not your typical child who liked to go outside and play when growing up.  He loved music. He would have the record player or the radio playing all the time. His dream in life was to become an on-air Disk Jockey. His favorite radio station growing up was KLIC. If they were having a contest on the radio, his name was on the winner sheet. Paul attended University of Louisiana Monroe and learned the skills to land his first radio job at KLIC. Back in those days, you had to talk at every break. It was Paul's passion, and he put his heart and soul into it.
In the 80's, Paul moved to a radio station called Magic 106 and he became the Piromaniac of the night time airways. He had the highest ratings you could get from the Arbitron Radio ratings. Paul then moved to a radio station known today as Q 93 in Alexandria, LA, and K104 and LA105 out of Monroe, LA. Paul also owned his own DJ business, Piromaniac's DJ Service. He was the most sought-after DJ for any wedding or party for over 30 years.
Paul also worked in TV as a Master control operator for KTVE 10 and Fox 14 television in Monroe, LA for over 20 years. Paul believed in living life to the fullest, and most of all, having fun.
Paul attended Jesus Good Shepherd Catholic Church in Monroe, La.
Paul had been sick with congestive heart failure for 20 years, but he never let it slow him down. Paul moved to Houston, TX in 2014 to be closer to his heart doctors at Saint Luke's Hospital.
Paul then joined Saint Paul Catholic Church, became a member and very good friends with the Men's' Acts group. They helped Paul come to terms with his illness and helped to prepare him for his journey to his heavenly home.
Mr. Piro was preceded in death by his father Joseph Paul Piro and mother Ida Lena Anzelmo Piro. Survivors include his wife Amy Renea Alexander Piro; son Joey Piro; daughter Amber McCormick; ,brother Joseph Piro and wife Kellye; and sister Mary Ann Piro.