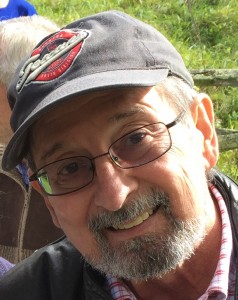 Paul Charles Ostrowski, 68, died Monday, November 2 at his home in Webster, TX. He leaves his wife of 43 years, Patricia Rodgers Ostrowski, his daughter, Katherine Margaret French, son-in-law Daniel French and grandson Robert Joseph French, and his son Andrew Joseph Ostrowski.  He is also survived by his mother, Helen Ostrowski, and brothers, William  (Pat) and Joseph (Mona) Ostrowski, and several nieces and nephews.
Born January 3, 1947 to Helen Augustynowicz Ostrowski and Joseph Paul Ostrowski, he  grew up in West Wyoming, Pennsylvania, graduated from Penn State University and earned his Masters Degree in Chemistry from MIT.
He moved to Houston, Texas in 1976 and was employed by Tenneco, and then Solvay Polymers until his retirement in January, 2014.   A witty and generous man, he had a passion for road trips, science fiction, Martin guitars, Classic Rock, and Houston Texans Football.
Visitation will be at Crowder Funeral Home 111 East Medical Center Blvd, Webster, TX 77598 on Thursday, November 5th from 6-8 PM.  Funeral services will take place on Friday, November 6th at 1:30 PM at St. Bernadette's Catholic Church on 15500 El Camino Real, Houston, TX 77062.  Interment will follow at Mt. Olivet Catholic Cemetery 7801 Gulf Freeway Dickinson, TX 77539. Charitable contributions can be made to the American Diabetes Association.