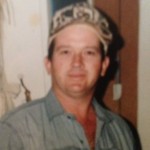 Paul Brent Touchstone, 60, passed away Saturday, March 22, 2014. He was born in Brownwood, Texas on September 17, 1953 to Dick and Johnye Touchstone. Paul lived in Hitchcock, but raised his family in Pearland.
He is preceded in death by his father; Dick Alden Touchstone. Paul is survived by his mother; Johnye Beth Touchstone, his loving wife; Debra Touchstone, his son; Jason Touchstone and wife Macale of Richmond, his two daughters; Brandie Touchstone and Casie Touchstone both of Pearland, his brothers; David Touchstone of Hitchcock, and Steve Touchstone of Texas City, and his sister in-law; Teresa Hart of Sugarland. He also leaves behind his grandchildren; Landon Touchstone, Jobeth Touchstone, Jake Johnson and MaKenna Touchstone.
A memorial service will be held Saturday, March 29, 2014 a 3:00pm with a visitation from 2:00pm to 4:00pm at the James Crowder Funeral Home in La Marque.